THE BUSINESS BENEFITS OF A COMMERCIAL LAUNDRY REPLACEMENT STRATEGY
KEEP YOUR LAUNDROMAT MOVING FORWARD BY PROACTIVELY REPLACING EQUIPMENT
From the machines we make to the people who've got your back, Maytag® Commercial Laundry is fully invested in helping you get the most out of your laundromat investment. We'll work with you to develop a proactive replacement strategy that fits the needs of your business. Whether that's one bank of new machines or completely retooling your store, we're dedicated to delivering the dependability that helps keep your laundromat moving in the right direction.
LEARN HOW A PROACTIVE REPLACEMENT STRATEGY HAS THE POTENTIAL TO DRIVE MORE PROFIT
We worked with the Coin Laundry Association to conduct a nationwide study of laundromat owners that uncovered the real and effective strategies they use for equipment replacement. You can download a complimentary copy of the study to learn insider tips on developing a replacement plan that can help positively impact your business.
THE BUSINESS-BOOSTING BENEFITS OF REPLACEMENT
We understand that every new commercial laundry machine you put into your business needs to provide a return. When the Maytag brand is on the machine, you can be confident that it's been designed to deliver these outcomes:
OPTIMIZING OPERATING EXPENSES
Replacing aging washers and dryers with new energy efficient commercial laundry machines can help you lower laundromat utility costs.

NEW REVENUE OPPORTUNITIES
The flexible controls on a new Maytag commercial washing machine allow you to price each cycle and option individually or program time-of-day pricing.

ENHANCE CUSTOMER SATISFACTION
Having the Maytag name on the machines in your laundromat lets you leverage the high level of trust millions of consumers have with our brand.
SIGNS THAT IT'S TIME FOR REPLACEMENT
While no two laundromats are exactly alike, there are common indicators you can look out for that signal it might be time to consider an equipment replacement strategy in your laundromat.
UTILITY COSTS ARE RISING
Though gas prices have fallen in many places, water and sewer costs have increased significantly in the past decade. If your laundromat utility costs have risen substantially, new commercial laundry machines could considerably lower your water and gas bills. In fact, new Maytag Commercial Laundry washers use up to 31% less water than our previous models.1
1Based on replacement of MFR18 washer to MYR20 washer and average total water use
MACHINE DOWNTIME IS INCREASING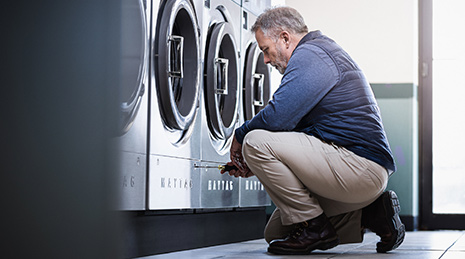 If you find yourself spending more time each week maintaining or fixing machines or waiting on service calls, it's likely time to replace some of your equipment. Even if you're not actively tracking what downtime is costing you, we can help you see how an investment in new machines has the potential to provide a return greater than continuously repairing old ones.
VEND PRICES HAVEN'T CHANGED
It's hard to raise vend prices on existing aging equipment without scaring away customers. With newer, programmable machines, you can adjust pricing for time of day, charge for cycle modifiers or offer alternative payment methods. Research shows that customers are willing to pay up to 20% more for using new equipment.2
2CLA, Deciding When to Replace Laundry Equipment White Paper
COMPETITION IS TAKING CUSTOMERS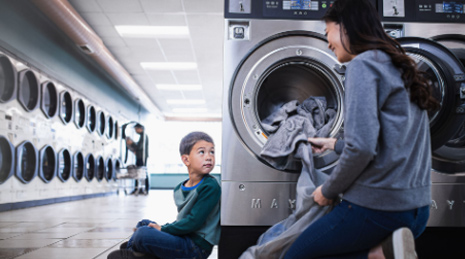 Laundromats tend to draw customers from within two or three miles. If a new store has opened in your area or an old store has undergone an upgrade, you're at risk for losing customers who prefer the allure of the nearby new equipment. We can work with you to develop a replacement strategy that keeps your laundromat the one that customers in your area keep coming to.
CHOOSING THE RIGHT REPLACEMENT STRATEGY
We'll work with you to determine when a replacement strategy makes the most business sense and help you choose the strategy that's best for your bottom line.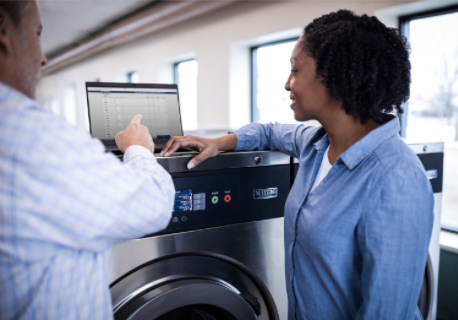 CALCULATE THE ROI POTENTIAL FOR YOUR LAUNDROMAT
We're committed to helping you realize the full profit potential of your replacement strategy, whether you're replacing a row of machines or retooling your entire store. We have a network of specialized laundry distributors around the world who are ready to work alongside you and have the tools to calculate your specific ROI potential with Maytag Commercial Laundry.
BUILT TO HELP IMPROVE YOUR BUSINESS
Every Maytag Commercial Laundry machine is purpose-built to keep traffic moving through your store. Our durable, easy-to-maintain equipment handles the harsh, daily demands that the success of your business requires. Turn after turn, year after year, we're dedicated to delivering the dependability that helps keep your business moving forward.
0% FINANCING FOR UP TO 6 MONTHS OR DEFERRED PAYMENTS
FOR 90 DAYS*
*Financing available for qualified applicants and subject to credit guidelines of Eastern Funding or Highland Capital. Offer is subject to change.
YOUR SUCCESS IS WHAT MATTERS MOST TO US
When you work with Maytag Commercial Laundry, it's about much more than just machines. We're invested in helping you get the most out of your replacement investment. This includes continuously curating resources designed to positively impact your day-to-day business.