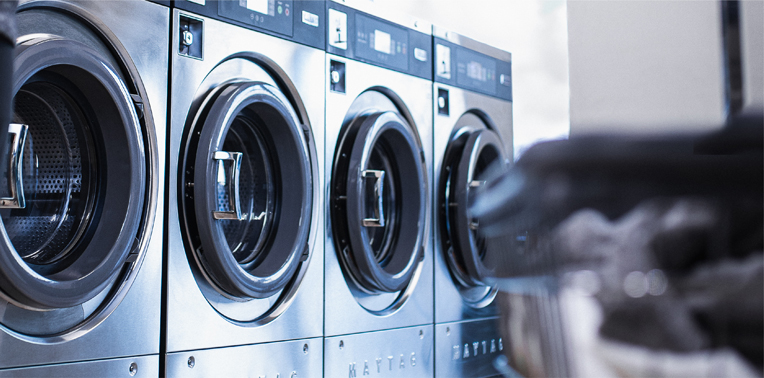 Your customers are the most important part of your business. That's why when you make decisions about your store, how it will affect your customers should be your first consideration.
Customer satisfaction is one of the long-term benefits of replacing equipment in your store and customer satisfaction can be profitable. Research shows customers are willing to pay up to 20% more for new machines.1 But to get to a brighter, cleaner store with new equipment takes downtime. Through new research from the Coin Laundry Association (CLA), we know disruption to daily store operations ranks among the top three challenges of laundromat owners as they consider replacement.2
When it comes to replacing machines or retooling your store, there are some specific approaches you can take that put your customers' needs first. It all starts with planning the scope of your renovations, educating your customers about changes and rewarding them for loyalty through your store's transformation period.
Planning your retool
Start with a list of all the things in your store you're changing. Replacing a few machines can be less disruptive and your store can remain partially open to customers. A stepped approach to replacement is a great way to tackle only certain sections of the store at a time. This helps you balance popular customer machines and traffic patterns with down times in certain areas of the store, keeping your technicians in one area and out of the way of customers.
Once you know the extent of your retool, create a timeline for the project. Map out how long the installation phase may take and consider availability of contractors like plumbers or electricians if you're doing additional renovations. It's likely you'll have to close or partially close your store during the upgrade. If you also analyze your store's traffic and most productive days, you can pair this with your contracting and replacement schedule and minimize lost revenue during your down time.
With an equipment list and timeline in place, don't forget to also plan for signage and disruptions from construction. Customers appreciate clarity. Provide great service by blocking hazardous or in-progress areas with clear barricades and providing signage throughout the store. Let customers know what work is in progress and what machines are still available. Identify areas that are still safe to sit and areas that are off-limits. If customers are left to wonder what they can use and where they can be, they may choose to head to another store. Including customers on the details of the project in these ways helps them remain committed to your location and feel loyalty to the store.
And don't forget to keep the renovation as clean and tidy as possible—customers will notice.
Educate your customers
Though missing machines and exposed pipes may feel like obvious cues that change is afoot, never underestimate the value of clear communication with your customers. As you begin your retool, be sure to provide clear, professional signage about the goal of the project. Customers can be encouraged to hear new machines are coming or that a vending area is going to be added to the store. You can choose to not only inform, but also educate. Post information about shorter dry times or bigger load capacity to help customers look forward to the changes with you. Share the project timeline so they can understand that any inconvenience now has an end date. Customers can appreciate change especially when they have a view to its results.
This is a great time to use your social media channels. Post progress photos and important information about new machines to provide more real time updates. You'll drive excitement and interest and all it takes are a few photos as the project advances.
Now is also the time to learn from your customers and find out what kinds of amenities and services they're looking for. If you're an attended store in a busier area with lots of professionals, it might be worth considering wash-dry-fold or dry cleaning drop-off service. If your customers tend to be families, new vending machines, arcade games or nicer seating areas might be just as attractive as the new machines.
Reward your customers
Customers depend on your services. To help smooth over the disruption to their regular routine, consider rewarding them with discounts to keep them happy during installation, or offering wash-dry-fold service. This simple gesture can help breed loyalty and customer retention.
And don't forget to celebrate with your current customers and attract new ones once your retool is complete. Draw attention to your new equipment through in-store signage, social media posts and flyers. Having a grand re-opening creates excitement and a reason to reward customers with a fun atmosphere, giveaways or additional discounts. Draw customers to new machines with incentives during the first few weeks after installation. Help them become comfortable with new models and services so those machines can begin returning profit quickly.
If your laundromat is equipped with 100% Maytag® Commercial Laundry equipment, you may be eligible to become a Maytag® Equipped Laundry and receive a list of ideas and tips for celebrating a full retool.3 Contact your local Maytag distributor for more details.
Just remember, your business relies on customers. Plan for their needs, keep them informed and appreciate their patronage through your retool and they'll reward you for it.
1 CLA, Deciding When to Replace Laundry Equipment
2 CLA, Equipment Replacement – Understanding Laundromat Owner Attitudes, Approaches and Motivators
3 Terms and conditions apply