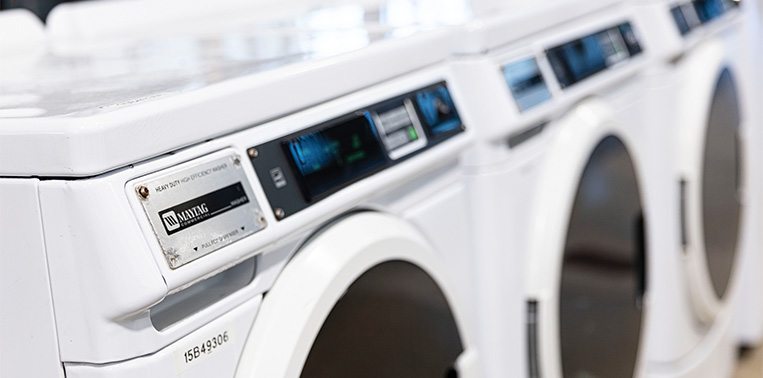 Maytag machines are built to last. From the beginning, the Maytag Washing Machine Company was built on Frederick Maytag's belief that quality and performance were the most important elements in building dependable products. For more than 100 years, Maytag has proven time and again that it gets the job done.
Maytag® Commercial Laundry has spent more than 60 years designing and testing solutions to ensure our customer's expectations are met. In an industry where laundry equipment endures heavy-duty usage and continual cycles every day, our engineers understand the importance of every test they perform, both inside and outside of the lab.
That includes putting machines through a gauntlet of tests, trials and inspections in our test lab to make sure our machines can stand up to the wear and tear of commercial use.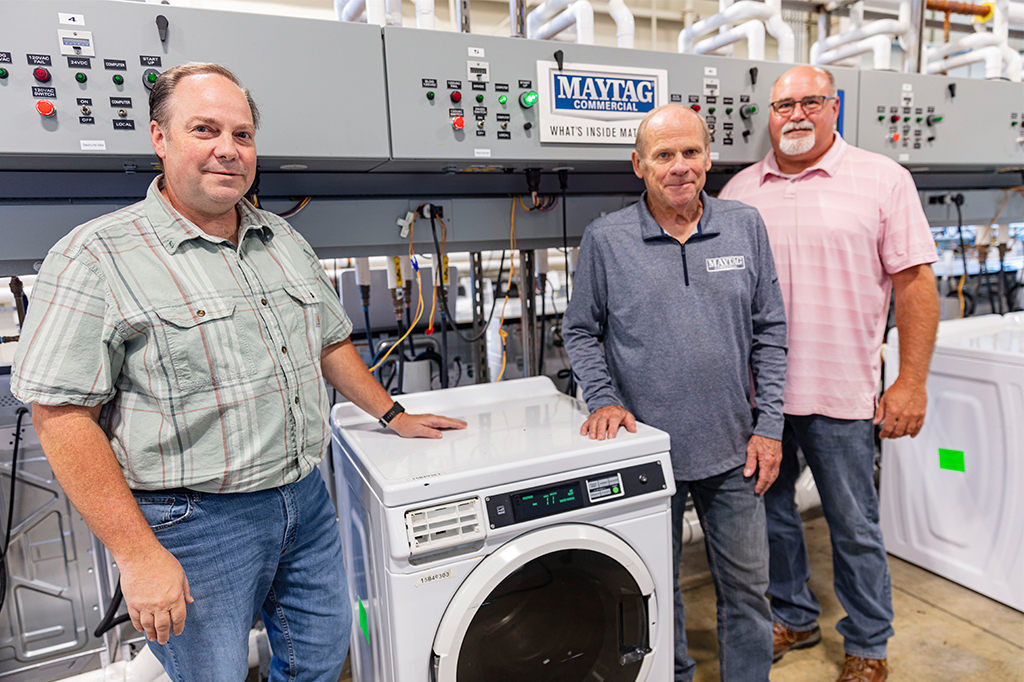 Our engineers recently ended a seven-year lab test on the MHN33 front-load washers and the DuraCore Drive System, with ten machines running daily, with proper use and care and adherence to the recommended maintenance schedule.
While three of the ten machines were removed from testing and used at tradeshows to demonstrate the remarkable results achieved, the remaining seven machines reached over 60,000 cycles each.*
60,000 CYCLES IN CONTEXT
When the MHN33 front-load washer was launched in 2015, robust advanced design delivered features including intelligent controls with M-Series technology, advanced spin technology, six-point suspension, and the DuraCore Drive System.
Dan Roscoe, Lead Engineer, has been working for Maytag Commercial Laundry since 1989 and led the design concepts we see in this machine still to this date.
"We wanted to design solutions that translated to reliability at the core of the machine. We included a durable shaft sleeve that would eliminate shaft wear. We designed the DuraCore Drive System, which offers a watertight, flexible triple-lip seal with garter spring that keeps moisture away from the shaft, protecting the premium bearings," said Roscoe.
Jason Hudock, Lead Engineer, has been with Maytag Commercial Laundry for over 12 years and led the efforts to translate design into production launch, testing and validation.
"Lab engineers started testing this machine's DuraCore Drive System in 2015 in multiple lab locations between Monterrey, Mexico and Michigan to allow engineers easy access to results. We had such powerful data on its reliability that we backed it up with our competitive 7/5-year limited warranty." – Jason Hudock, Lead Engineer
Despite hundreds of hours and thousands of cycles, our product testing team knows that quality is about more than nuts and bolts. Engineer Kurt Werner has worked for Whirlpool Corporation for over 40 years. He has more than 25 patents in his name and is an expert on laundry drives and motors. Kurt started working on commercial laundry in the 1990s and enjoys the focus on producing long-lasting equipment.
"Because the performance and reliability expectations are so high, all our single-load washers that come off the production line—one hundred percent—get inspected and get that extra human touch." – Kurt Werner, Engineer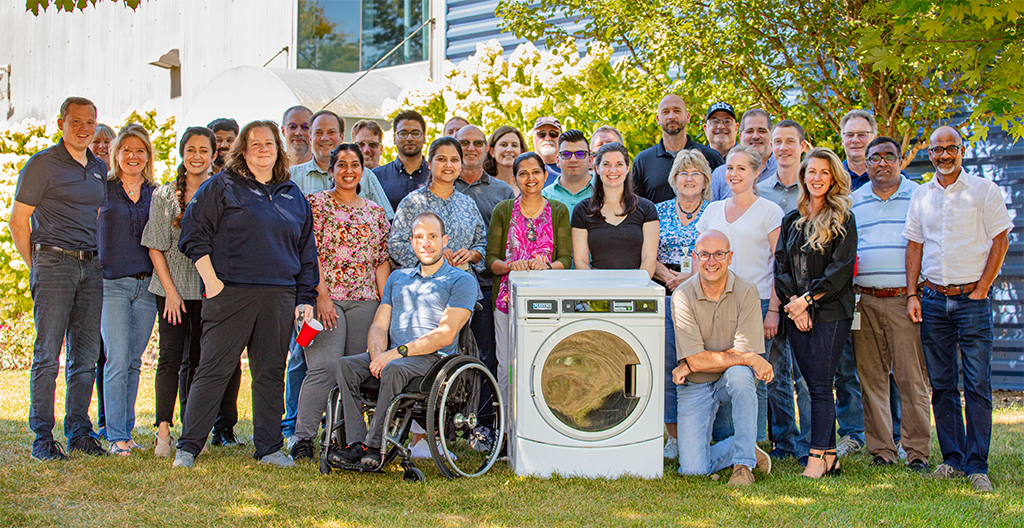 Our engineers are satisfied with the results obtained over the past seven years and will shift efforts to start testing new machines currently in development.
Maytag Commercial Laundry is determined to be a brand our customers can rely on for quality and dependability, in the products manufactured and the support provided. If you're ready to see what that dependability and support can do for your operation, contact your local Maytag Commercial Laundry distributor.
*Individual washer dependability may vary in actual use. Based on lab testing of the DuraCore Drive System up to 60,000 consecutive 34-minute timed cycles using an 11-lb laundry load on the "Heavy Load" setting. The DuraCore Drive System as tested included Hub, Drive Bearings, Bearing Spacer/Shaft Sleeve, triple-lip with garter spring Tub Seal, Cross Piece Assembly with Drum Shaft, and Drum. Individual washer dependability may vary in actual use. This testing is not meant to supersede the machine's actual warranty. See maytagcommerciallaundry.com for specifics related to your machine.