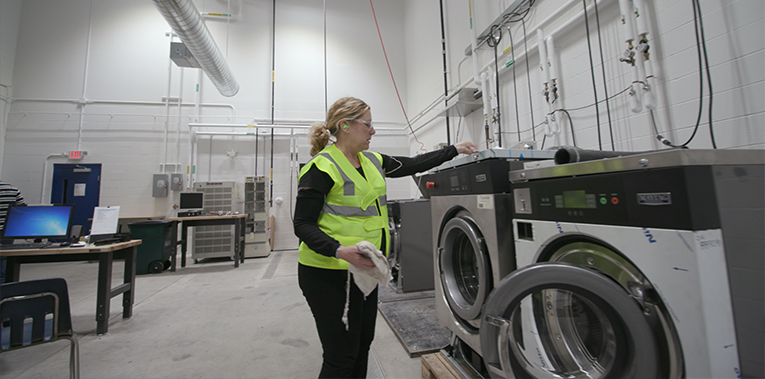 The machines in your store go through a lot of wear and tear. Depending on your operating hours, they might even have to run 24/7, so at Maytag® Commercial Laundry, we make sure they're up for the challenge. Before they get to your store, our multi-load washer designs are put through more than 15 million spins under the harshest conditions for more than 800 hours—without failure.
It might sound extreme, but that's the kind of commitment to quality and dependability that you'll find when you invest in our equipment.
Maytag Commercial Laundry manufactures and tests our multi-load washers and dryers at our facility in Fall River, Massachusetts, where our team has delivered high-quality equipment to the commercial laundry industry for nearly 50 years. That's accomplished through extensive testing, quality control and dedicated customer support.
QUALITY CONTROL ENSURES SMOOTH PRODUCTION
In addition to customer support, Fall River invests in the quality of its manufacturing processes, with several inspection points on each assembly line.
Two engineers focus on part quality from outside suppliers, and a quality control manager works closely with assembly workers and engineers to make sure each part is up to standard.
All production lines also have dedicated quality testing coordinators, and every machine that comes off the line is inspected in one of the plant's six quality control inspection booths before shipment.
TESTING LABS ENSURE QUALITY MACHINES IN TOUGH ENVIRONMENTS
Fall River is also where Maytag Commercial Laundry conducts extensive product testing in a new multi-million-dollar lab.
Our machines have to pass several extreme tests to ensure their quality is up to standard.
A 10-day washer test continuously spins an unbalanced load for 15 million rotations at high speed without break. Washers also undergo an A-frame test, where they must be able to withstand 800 hours of extreme downward force, without failure.
The 18,000 square-foot lab also features an environmental testing chamber to ensure they perform in whatever conditions they're put under.
All this testing helps catch assembly line issues before they become problems, keeping quality consistent.
HOME TO TECHLINE, DEDICATED CUSTOMER SERVICE
Fall River is home to the Whirlpool® Commercial Laundry TechLine, where our inside service team fields calls from laundromat owners, distributors and other commercial laundry customers.
If you have a service or maintenance question about any Maytag Commercial Laundry machine, you can contact TechLine anytime Monday through Friday, 8 a.m. to 6 p.m. EST by calling 800-662-3587. They can talk you through repairs or even walk you through them step-by-step with a video call.
Our field service team also works from the Fall River facility, providing customers around the world with support.
The Fall River team is just one example of the commitment Maytag Commercial Laundry has made to innovative engineering, quality control and technical support.
We're determined to be a brand you can rely on for quality and dependability, in our products and the support we provide. To see this quality and dependability in action, contact your nearest Maytag Commercial Laundry distributor.